They say good things come to those who wait, and Amazon's No-Rush Rewards are a literal interpretation of that statement. The service is geared towards Amazon Prime members who are willing to wait extra time for their item to arrive. At checkout, just choose to get your items within six business days instead of the typical two-day shipping period. In exchange, you'll earn account credits or discounts on Amazon products. These rewards vary, but range from a $1 Amazon Digital Service credit to a $20 discount on Amazon Home Services.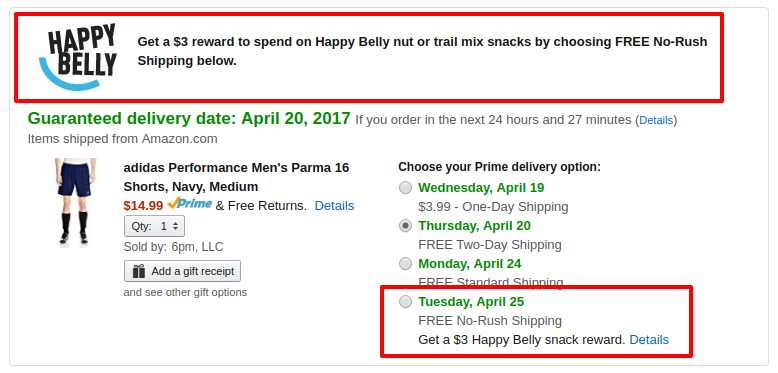 You can't choose the reward you're offered and we haven't yet figured out a specific rhyme or reason to which rewards are offered. What we do know is rewards are typically available on Prime-eligible products shipped by Amazon, and you'll find out what the specific reward is during checkout.
Check Your Amazon Reward Balance
In the past, Amazon would send an email with information regarding expiration dates and limits for the No-Rush Rewards once your item shipped. However, now there's a specific page to show users the balance of their No-Rush Rewards and details on expiration dates. This makes it much easier to keep track of all of your rewards and their expiration dates — it also means you're less likely to just forget about or lose the information on a reward. You'll also want to keep in mind that you won't find out the expiration date for rewards until after your item has been ordered and you've already opted for No-Rush shipping.
Using Your No-Rush Shipping Rewards
Currently, one of the most common rewards is a $1 Amazon Digital Services credit or a $3 discount off Amazon's Happy Belly snack products. Unfortunately, as Slickdealer abichake points out, these discounts and the $20 home services credits are single-use and aren't stackable, but the $1 digital credit can build up over time to be used on higher-priced items.
Digital Rewards Tips
Digital rewards can be used for eBooks, video rentals, mp3s or apps from the Amazon Appstore. Since digital rewards credits are typically only $1, they may not immediately seem as valuable as some of the other No Rush offerings. However, you can stack them until you have enough credit for a more substantial reward, and since many digital goods are offered for less than $5, it's often easier to find products you're actually excited about.
For example, most video rentals on Amazon range from $3 to $6 for HD films, and Amazon even runs regular sales wherein select movies can be rented for $0.99. If you're okay with waiting a little longer for your Amazon orders, you could theoretically rent a movie every 1-3 orders, free of charge.
Some users have also reported you can use No Rush credits to pay for Prime Video add-on streaming services like STARZ or Showtime. The catch is it's often tricky (though not impossible) to save up enough credits to cover a full-priced subscription charge. However, thanks to some wonderful "$0.99 trial" offers – we recently saw this listed for Showtime, STARZ and Epix – you can easily pay for a month (or more) of service the credits you earned from a single purchase.
How to Check Your Amazon No Rush Credit Balance
Go to the No-Rush Rewards summary page on Amazon (link)
Log in to you Amazon Prime account if you're not already signed in.
Your credit balance will show prominently on the page.

Frequently Asked Questions
How do I apply the no-rush shipping credits to my order?
The credits will automatically discount any product that is applicable.
What can I buy with Amazon's digital credits?
You actually have quite a few options when it comes to spending digital credits, including Kindle ebooks, Amazon instant videos, digital music, add on streaming service subscriptions and Amazon Appstore apps.
How do I get a different no-rush shipping discount?
Your best bet for getting different rewards is to accept any offer presented. Amazon appears to try and offer a variety of rewards, so you are more likely to get a different discount each time you accept a reward.
When do my no-rush shipping rewards expire?
It varies per reward, but will be noted in the reward email and on the reward balance page.
Search URL: https://slickdeals.net/newsearch.php?firstonly=1&pp=20&sort=newest&rating=frontpage&filter%5B%5D=12029&forumid%5B%5D=9&hideexpired=1&r=1
More to consider:
Thanks to leehg69 for first posting about this in the forums.