Advertiser Disclosure: At Slickdeals, we work hard to find the best deals. Some products in our articles are from partners who may provide us with compensation, but this doesn't change our opinions. Our editors strive to ensure that the information in this article is accurate as of the date published, but please keep in mind that offers can change. We encourage you to verify all terms and conditions of any product before you apply.
Reading Time:
4
minutes
Sam's Club is a long-time favorite for shoppers who love to score bulk buys for less. And while joining the basic Sam's Club Member program earns you access to all of the store's discounted goods, the retailer also offers an upgraded Sam's Plus membership with its own set of perks outlined below to help you decide which membership is best for your family.
Are the Extra Benefits of Sam's Plus Worth the Extra Cost?
We're looking at all the advantages of a Sam's Club Plus membership in order to find out.
---
Before You Consider a Sam's Club Plus Membership, Here Are Recent Deals on Basic Membership
For Sam's basic membership, there are great deals going on now to make a 12-month membership essentially 'free.' These deals are summarized below, and you can read more on how to make them "free" and see exact details on what you get for each price.
---
Sam's Club Plus Membership Cost
A Sam's Club Plus Membership costs $100, which is $55 more than the regular basic membership. However, you can upgrade your Sam's Club Plus membership for a prorated cost at any time of the year. [For example: If you purchase a basic membership for $45 in January and decide to upgrade to "Plus" the same year in June, you will only have to pay an additional $58, bringing your total cost to $103 for Plus level status.] Additionally, we see frequent Sam's Club membership deals (as noted above). This means you can grab a basic Sam's Club membership for practically free, and then upgrade to a Plus membership if and when you're ready.
RELATED: Best Sam's Club Membership Deals and Discounts
Sam's Club Plus Membership Benefits

1. Earn 2% Cash Back on Qualifying Purchases
Plus members can earn rewards in the form of 2% cash back on eligible purchases, which essentially comes out to $10 for every $500 they spend at the store (pre-tax). The maximum that you can accrue is $500 in a 12-month period. This means that if you spend $100 per week, you'll earn back your $100 membership cost in a year (in 50 weeks). And if, for example, you have a big family or a business and spend $250 a week at the warehouse store, you will earn $260 cashback in a year (which covers the $100 Sam's Club Plus annual fee and nets you an extra $160 cashback to spend).
2. Get Free Shipping on Everything (No Minimum)
Don't feel like shopping in-store? Plus members also receive free shipping to their door or business without having to meet spending minimums.
3. Get Free Prescriptions and Health Care Item Discounts
A Sam's Club Plus membership can help you save on your health needs, as well. Plus members receive five free select prescriptions, with an additional 30% select name-brand drugs. You can also save 20% on a pair of eyeglasses and get free shipping on contact lenses.
4. Earlier Shopping Hours
Another worthwhile perk: you can shop up to three hours before other shoppers. Plus members get access to the store starting at 7:00 a.m. Monday through Saturday. It's a great option for early risers or those who like to shop before work.
Examples of Sam's Club Member Savings
Along with cheap gas and groceries, Sam's Club often offers additional savings on top of already low prices. Here are some recent examples of the types of deals you can expect:
Is a Sam's Club Plus Membership Right for Me?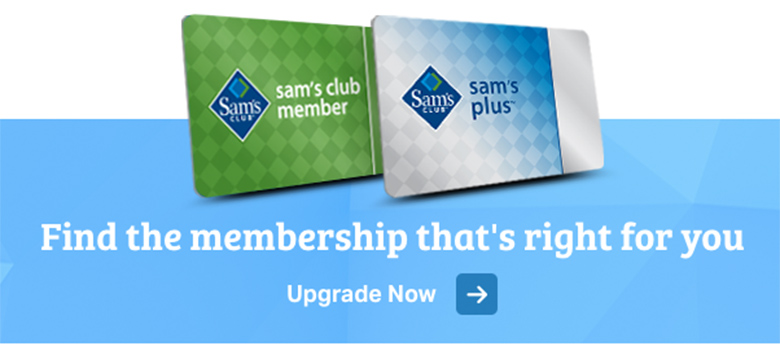 Still not sure if the Plus-level membership is the right one for you and your family? Here are a few questions to consider before committing to the upgraded membership:
How much do you spend on groceries each month? If you spend at least $400 a month on groceries, electronics and other warehouse deals, then the Plus membership will basically pay for itself.
Do you have a business? Running a business is hard, but a Sam's Club's Plus membership can make it a little easier. Not only will you earn cash back on purchases, but you can also take advantage of free shipping. If your company is short on toilet paper or cups, you can quickly place an order instead of running to the warehouse.
Do you hate crowds? If shopping at your local warehouse with everyone else in your city gives you hives, then the Plus membership is worth investing in. You can shop early in-store starting at 7:00 a.m.
No matter what membership tier you decide on, Sam's Club deals pop up often. Set a Deal Alert to save the most with your new Sam's Club Plus membership.