If you are an avid reader, the temptation to buy more books can make reading a pricey hobby. But going the used books route is an excellent way to read on a budget while broadening your horizons. When you're done with a book, spread the joy and pass it onto someone else to enjoy.
We're breaking down a list of the best places to buy used books online so you can satisfy your hobby on a budget. Buying used books instead of new ones not only helps you save a lot of money, but it also benefits the environment while giving you access to some extraordinary finds.
Best Online Used Book Stores for Cheaper Books
Here are our picks on the best online bookstores where you can find used books at low prices. Enjoy a good title for way less than what it costs new!
1. Amazon
Amazon's online marketplace is the most obvious go-to for new and used books alike. After all, this is how it all started in 1995 — as an online marketplace for books. Used paperback books on Amazon can cost as low as a tenth of the original price when it comes to best sellers. You can find an impressive selection of popular books along with indie authors at great prices.
Besides used books, you can also get a lot of free audiobooks from Amazon if you sign up for a 30-day Audible trial. E-books are also available for free and you can read them in your browser via the free Kindle cloud reader.
2. AbeBooks
Looking for collectible and unusual books? AbeBooks might be a better fit for you than Amazon, which bought out AbeBooks in 2008. AbeBooks is easy to search, has a multitude of filters and prices are as low as $1 per book. What sets it apart from other sites is that it features a high number of individual sellers, not book dealers.
If you aren't looking for something in particular, you can get awesome finds by browsing collections or reading lists. It is also a great place for affordable textbooks.
3. ThriftBooks
With over 13 million titles available, ThriftBooks has something in store for everyone. You can browse their neatly organized categories or get reading inspiration from their blog articles. Make sure to check their Deals page and join them for free to unlock exclusive offers.
Their Reading Rewards program converts the dollars you spend in the online bookstore into points. You can redeem them for free books and free shipping vouchers. You also get points just for joining, for placing an order via their mobile app and for adding your birthday to your account.
Do you want to surprise a fellow book lover? Send them a personalized digital ThriftBooks gift card in just a few clicks.
4. Alibris
If you got excited about those 13 million titles that ThriftBooks offers, know that Alibris has over 270 million books, albums and movies! Plus you can save up to 80% on a great selection of fiction, non-fiction and children's books with their book bargains. Prices start at $0.99 and you can also rent or buy eBooks from Alibris Digital for a fraction of the print book cost.
5. PaperBack Swap
What if you didn't have to pay for books at all? PaperBack Swap allows you to trade books with other club members and only pay postage for what you send out. You can also select from over 1 million free books, postage-paid. This ingenious system makes PaperBack Swap one of the cheapest places to buy access used books at affordable.
You can also buy new books at discounted prices and enjoy more benefits with a paid annual membership.
6. Better World Books
As the name suggests, Better World Books is more than just a regular online venue with used books for sale. Each purchase gets to chip in for a good deed via their literacy partner programs. Since they started on this charitable path, they have donated over 32 million books and raised over $33 million in funds for literacy and libraries. They also helped reuse or recycle almost 400 million books!
When shopping from their Bargain Bin, you can get as much as 30% off orders with at least 10 books, on top of their already discounted price. Shop more, read more, save more.
7. Powell's
With three physical stores in the Portland area and an online bookstore that features pre-orders alongside an extensive selection of used books, Powell's manages to bring together the old and the new, the online and the offline. Their website also highlights curated lists with the staff picks of the month and a tiny gift shop for book lovers. Make sure to also check their events list. They regularly hold in-person events where you can meet the author and get your favorite book signed.
BONUS: Use the Public Library
What if instead of buying used books, you just borrowed them from the local library? Many public libraries also provide ebooks and you don't necessarily need a physical card to access the digital content. Try apps like Libby, OverDrive or Hoopla to access digital books through your public library, and expand your reading horizon with just a few clicks.
FAQ: Buying & Selling Used Books Online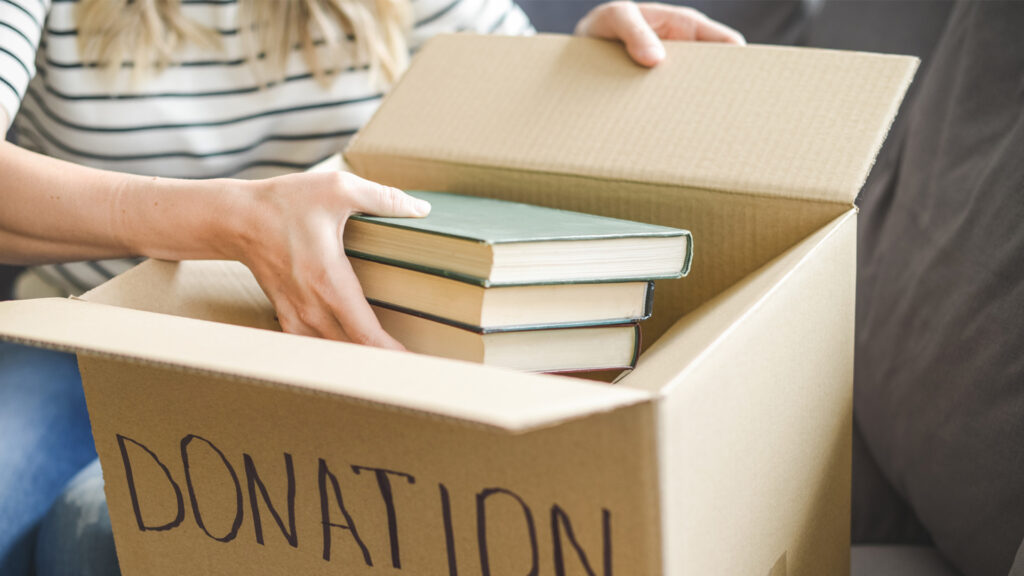 Where can I sell or donate my used books?
Besides swapping used books with your friends or as a PaperBack Swap member, you can also sell them online in Facebook's marketplace, on eBay, AbeBooks or via the OfferUp app. Offline options include local bookstores, consignment shops, yard sales and book-buying markets.

If you would rather donate your old books instead of selling them, the most convenient options are used bookstores, local libraries and reputable charities like Salvation Army and Goodwill.
Can I also sell or donate used magazines?
Some magazines can be valuable as collections or when they are out of print. Yard sales and online marketplaces are a good starting point if you want to declutter your home and make an extra buck. You can also donate used magazines to nursing homes, family shelters, military troops, daycare centers and any place that has a waiting room, such as a doctor's office.
How can I find the best deals on used books?
When looking for a certain title, it is best that you search each individual online bookstore. If multiple websites have what you need, make sure to take into account shipping when comparing prices.If you just want to get a book refill for your next holiday or your daily commute, you may want to check used books on Slickdeals. You can also add a Deal alert for "used books" and get notified when new offers become available.
Author