Advertiser Disclosure: At Slickdeals, we work hard to find the best deals. Some products in our articles are from partners who may provide us with compensation, but this doesn't change our opinions. Our editors strive to ensure that the information in this article is accurate as of the date published, but please keep in mind that offers can change. We encourage you to verify all terms and conditions of any product before you apply.
Reading Time:
5
minutes

We often see Frontpage deals coming in by way of Amazon Subscribe and Save, but couldn't help but notice that the details of the program are a little unclear. How exactly do you save money? And what's the commitment level like? (a.k.a. Is it a major pain to cancel subscriptions?)
We decided to demystify Amazon Subscribe and Save by breaking down all the must-know details. If you're looking for a little clarity, you've come to the right place.
How Does Amazon Subscribe and Save Work?
Subscribe and Save is pretty much what the name implies — an online shopping service that allows users to subscribe to items they frequently buy, then set up auto-delivery so that these items arrive as often as they'd like. Delivery windows are set up in month-by-month increments, with the shortest window being once a month and the longest being once every six months.
But the real savings come in when you hit the five-item mark. Subscribing to five or more items to be delivered together bumps your discount up to 15% off. The key here is that in order to get that 15% discount, all five subscriptions have to come on the same monthly delivery date.
threadID: 10066792
Want toothpaste delivered every two months? Or paper towels on your doorstep every three? Subscribe and Save lets you set it up in just a few clicks. There are literally thousands of eligible items you can subscribe to, from grocery items to beauty products to pet supplies. Even many of those little Amazon Add-on items, which normally require a $25 minimum purchase, are eligible for Subscribe and Save. In addition to the convenience factor, the free program also doles out some pretty impressive savings; if you know how to snag them.
https://www.facebook.com/slickdeals/videos/10154220916816935/
How Much Can You Actually Save?
The number of items you choose to subscribe to is entirely up to you, but just know that the more you select, the more you save. If you have up to four subscriptions set for one delivery, you'll automatically get 5% off plus free standard shipping. (Sorry, subscriptions don't qualify for Prime Two-Day Shipping.) But the real savings come in when you hit the five-item mark. Subscribing to five or more items to be delivered together bumps your discount up to 15% off. The key here is that in order to get that 15% discount, all five subscriptions have to come on the same monthly delivery date. On months where, say, only four items come, you'll only get 5% off. Still, for items you were planning on buying anyway (think household staples and toiletries), Subscribe and Save may be worth considering.
Another detail to keep in mind, though, is that if you run out of an item in the middle of your delivery cycle and can't wait until the next cycle begins to adjust your delivery frequency or the quantity of the item being delivered, you'll be on the hook for the refills. This means no free shipping, unless you have Prime and order it that way.
threadID: 10016412
Can I Dial Up Savings by Stacking Amazon Coupons?
Totally. In fact, it's a great way to really maximize your savings. Amazon offers up a number of coupons for select Subscribe and Save items — all of which can be redeemed on top of the discounts mentioned above. (You can view all the latest Subscribe and Save coupons here.)
See a coupon that catches your eye? Simply click the "Clip Coupon" icon to redeem it. After subscribing to the product, the discount will be applied to the next delivery. When it comes to stacking these savings, the 5% discount (or 15%, if you have at least five items in your shipment) will be applied before any coupons. Also, these coupons are for one-time-use only and will not apply to future deliveries of that item. So if you subscribe to a particular item because there's a great coupon available, be sure to cancel it after you receive that first shipment.


threadID: 10089888
How Do You Change a Delivery Date?
Once you subscribe to an item, you'll see that monthly delivery is the most common option. But you're in no way locked into this timeframe. Adjusting delivery dates or frequency of deliveries is easy; you can modify different aspects of your subscriptions (or cancel all together with no penalty) via your Amazon account settings. From there, the next steps are self-explanatory.


threadID: 10086744
Are Subscription Prices Locked in When I Order or Can They Change?
Prices are locked in for your first order, but not on subsequent orders after that. When you subscribe to an item, your credit card isn't actually charged until that item is shipped. This is precisely why it's a good idea to take a peek at your upcoming orders just prior to delivery to check on any significant price jumps. If you catch a spike, you can call off the delivery. On the flip side, you may end up cashing in with a lower price than you started with.

How to Cancel Amazon Subscribe & Save
This is actually a pretty headache-free process. Simply go to your Subscribe and Save items, hover over the subscription you want to cancel, click edit, then click cancel. There are absolutely no fees or penalties for doing so.
Go to Your Subscribe and Save Items under Your Account
Hover over the subscription you want to modify.
Click "Edit".
Click "Cancel Subscription".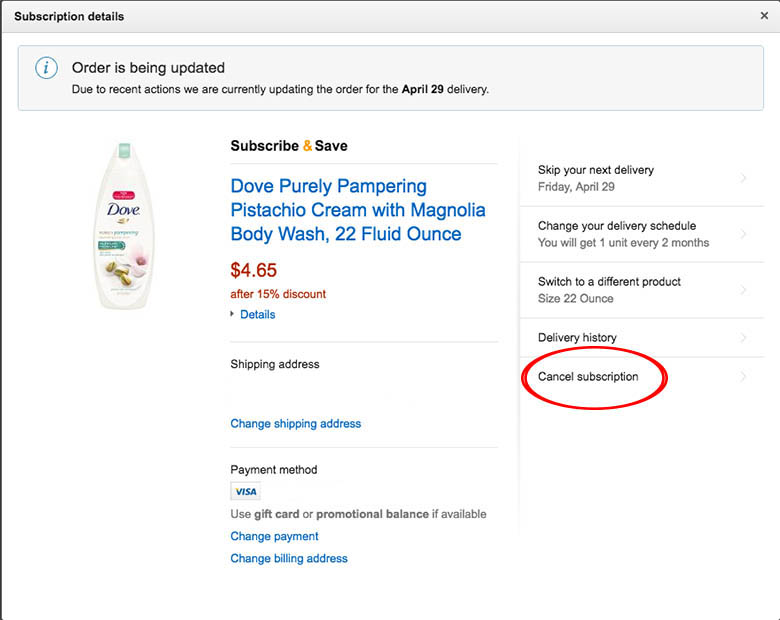 So, does it sound worth it? It depends on what you're ordering. For some items, you may actually be able to save more cash at your local warehouse club, but if you do a little research ahead of time and take advantage of coupons, there are definitely good deals to be had. And even if you can save a few pennies at a brick-and-mortar store, the convenience and decent-enough savings may be enough to sway some potential new customers.
Have you given Subscribe and Save a try? What's your take?
Click here to see all Amazon Slickdeals!
Images courtesy of Amazon.