Advertiser Disclosure: At Slickdeals, we work hard to find the best deals. Some products in our articles are from partners who may provide us with compensation, but this doesn't change our opinions. Our editors strive to ensure that the information in this article is accurate as of the date published, but please keep in mind that offers can change. We encourage you to verify all terms and conditions of any product before you apply.
Reading Time:
3
minutes
Whenever I need to return an Amazon order I always choose to do it at the UPS store. I live less than a mile from one, which helps, but it's also just very convenient, quick and free!
You can do free Amazon returns at Kohl's as well, but I've found that there tends to be a line every time I go. At the UPS store I'm usually in and out in less than a minute. Follow these simple steps and hopefully you'll have the same experience.
Step 1: Select the Product to Return
Log into your Amazon account on your computer or mobile app and click "your orders." Find the product that you want to return and click on it.
Step 2: Initiate Your Return
Scroll down and select the option "return or replace item." You'll see if you're still within the return window.
Step 3: Select the Reason for Your Return
I don't think it matters too much what you choose here, but select the option that best aligns with why you're returning your order. In my case, the soundbar TV mount didn't fit my TV.
Step 4: Provide Comments
Add additional context for the reason for your return. This is a required step, but you'd don't have to write a lot. Five words did the trick this time. Click continue when you're done.
Step 5: Choose Between Refund or a Replacement Item
If the item you received was damaged or defective you can always choose to get a new one sent out instead of a refund. If not, go ahead and select the refund option and click continue.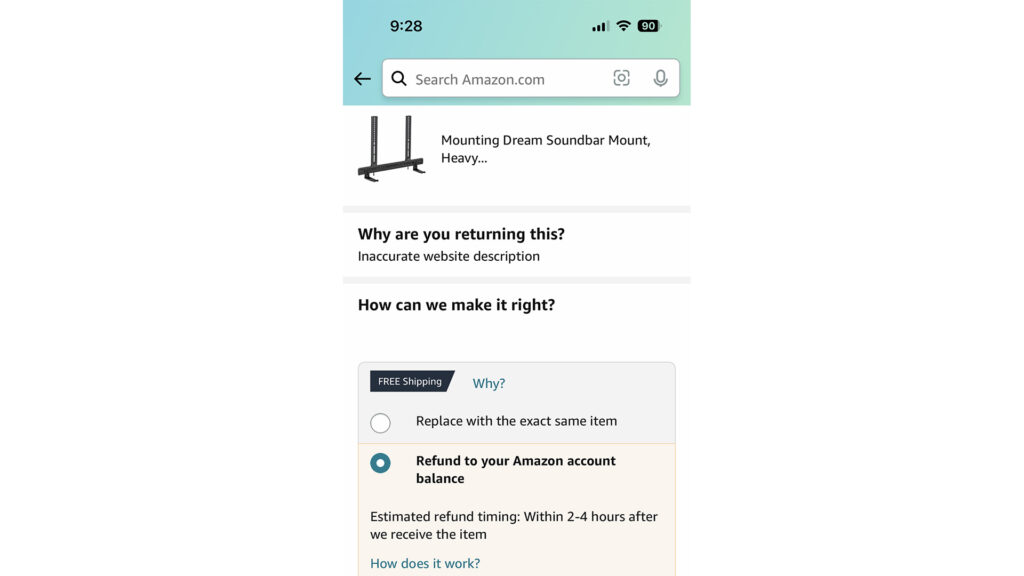 Step 6: Select UPS Store as the Return Location
On this screen you will see which return options are available to you. Common ones are Kohl's drop-off, UPS Store and Amazon Lockers. Select the UPS option and click "confirm your return" at the bottom.
Step 7: Save Your Return QR Code
On the next screen you can view your return QR code. I find it most convenient to take a screenshot of it on my phone so it's fast to pull up when I get to the store. But Amazon will also email it to you automatically, or you can download it on your phone as well.
Step 8: Drop Off Your Item at the UPS Store
Make sure you package your item in its original packaging and tape it up (if it's in a box). Walk up to the store associate and show them your QR code. They will scan it and give you a receipt, which I recommend you hang onto until Amazon confirms they've received your item.
That's it! The whole process only takes a minute or two, excluding your trip to the UPS Store. You'll receive your refund within 2-4 hours from the time Amazon receives the return.