Chances are, if you're a Costco member, you've perused through the huge electronics section that's located near the front of the warehouse, but did you know that you can save a good chunk of change buying Apple products, including iPads, there instead of through other retailers? Costco iPads are a great deal that you can't pass up if you're on the hunt for a new tablet that lets you play games, watch movies and TV shows in high definition and get some work done.
Here is Slickdeals' guide to everything you need to know about shopping for Costco iPads.
Does Costco Have the Best iPad Deals?
Costco's iPad deals have always been some of the best savings on the market, though you might be wondering if they're cheaper than shopping directly through Apple. We did a price comparison below and found that Costco iPad's regular prices are consistently lower than Apple's regular prices by on average $30.
Where you'll really gain in savings is through special offers from Costco, such as a $300 Costco Shop Card when you trade up for a new iPad. Deals like these make buying an iPad from Costco an excellent choice.
Here is a breakdown of some iPad prices at Costco compared to Apple.
iPad (9th Gen)
| | |
| --- | --- |
| Costco | Apple |
| $319.99 (64GB) | $329 (64GB) |
| $449.99 (256GB) | $479 (256GB) |
iPad Air Wi-Fi (5th Gen)
| | |
| --- | --- |
| Costco | Apple |
| $569.99 (64GB) | $599 (64GB) |
| $719.99 (256GB) | $749 (256GB) |
iPad Mini Wi-Fi (6th Gen)
| | |
| --- | --- |
| Costco | Apple |
| $489.99 (64GB) | $499 (64GB) |
| $629.99 (256GB) | $649 (256GB) |
iPad Pro Wi-Fi (5th Gen)
| | |
| --- | --- |
| Costco | Apple |
| $1,049.99 (128GB) | $1,099 (128GB) |
| $1,149.99 (256GB) | $1,199 (256GB) |
| $1,349.99 (512GB) | $1,399 (512GB) |
| $1,749.99 (1TB) | $1,799 (1TB) |
| $2,099.99 (2TB) | $2,199 (2TB) |
What Are Some Current and Past Costco iPad Deals?
One thing to know is that Costco is always offering some deals to sweeten the pot for those seeking Apple products.
Here are some of the best iPad deal offers from Costco at the current moment:
For a limited time, Costco is offering a $300 Costco Shop Card when you trade up to a new iPad.
As for past Costco iPad deals, here are a few to keep in the back of your shopping mind in case they do decide to bring them back:
Costco iPad FAQ: What to Know Before Buying
What iPads can I buy at Costco?
Costco offers the latest and greatest iPad models, as well as a few previous iterations that you can find at an Apple Store or any other big electronic retailer. You can get either Wi-Fi or Cellular versions for iPad Pro and iPad Mini as well.
iPad Pro 11″ (3rd Gen) 
iPad Air 10.9″ (4th Gen + 5th Gen)
iPad Pro 12.9″ (5th Gen) 
iPad 10.2″ (9th Gen)
iPad Mini (6th Gen) 
Do I need a Costco membership to buy an iPad?
Unfortunately, a Costco membership is necessary to buy an iPad, but there are ways to purchase a new Apple tablet without it. That being said, if there's a Costco iPad deal that you can't pass up, you can always sign up for a membership and cancel it after you buy what you need. 
Costco has a risk-free return policy that even applies to memberships, and they will refund your membership fees if you are not satisfied for any reason.
Do iPads at Costco come with a warranty?
Costco iPads do not automatically come with an extended warranty, but instead comes with the usual 1-year manufacturer warranty and technical support.
Can I buy AppleCare+ at Costco?
While Costco iPads may not come with an extended warranty, you can purchase an AppleCare+ 2-year warranty or even an Allstate 2-year warranty along with your iPad when finalizing your purchase.
Here's what each of those warranties come with:
AppleCare+: 2-year coverage, 24/7 priority technical support, Apple-certified repair services, battery service coverage and up to 2 incidents of accidental damage every 12 months (each subject to a service fee).
Allstate: 2-year coverage, coverage for drops/spills/accidents/mechanical & electrical failures, no deductibles or hidden fees, free 2-way express shipping and access to 24/7 online claims.
Can I get a price adjustment or refund if the iPad price goes down?
If you buy your iPad at Costco and you discover that Costco is offering a cheaper price for the same product within 30 days, you can request a price adjustment to get the difference back within 3-5 business days.
However, keep in mind that you can't get a price adjustment if you already received a promotional price at checkout.
Note that Costco does not price match with other retailers.
As mentioned earlier, there is a 90-day return policy, so you can return the iPad within that time period if you happen to find a less expensive model elsewhere.
Which iPad model should I buy?
Costco offers every new iPad model on the market out there, like the regular iPad 9th generation, iPad mini, iPad Air and iPad Pro, but currently, you're more than likely not gonna be able to find older, cheaper models at the warehouse. But Costco has a partnership with phobio to trade-in your older device for a Costco shop card of up to $300, which can save you a whole lot towards a brand-new iPad.
Depending on your needs, here's a quick rundown of what iPad you should gravitate to:
iPad 10.2″ (9th Gen): The most affordable version for everyday users.
iPad Mini (6th Gen): Its compact size is perfect for those who are always on the go.
iPad Pro (5th Gen): Because it has the same M1 chip as Apple Macbooks, an iPad Pro is ideal choice to replace your bulky computer.
iPad Air (5th Gen): It has an M1 processor like an iPad Pro but it's lighter and it packs a lot of great features for the price.
How To Save No Matter Where You Shop or What You Buy
Sift through all the potential savings by setting Deal Alerts on Slickdeals for items on your list. You can also check our coupon pages for current promo codes for your all favorite stores.
Download the Slickdeals app for iOS or for Android to find deals conveniently through your phone. Our community of over 12 million active deal hunters will find and upload amazing savings, which you can easily search through to make sure you're getting the lowest price on the internet.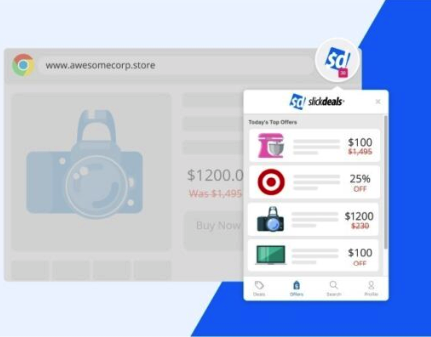 Never Hunt for Coupons Again
We'll try the latest coupon codes to save you the most money on every purchase.
Author