Advertiser Disclosure: At Slickdeals, we work hard to find the best deals. Some products in our articles are from partners who may provide us with compensation, but this doesn't change our opinions. Our editors strive to ensure that the information in this article is accurate as of the date published, but please keep in mind that offers can change. We encourage you to verify all terms and conditions of any product before you apply.
Reading Time:
3
minutes

There's nothing slick about paying for something you can get for free, but considering bottled water was a $14 billion industry in 2015, it's safe to assume most people are still buying water at least occasionally.
Bottled water is the second largest beverage category by volume in the U.S. It wouldn't be a big surprise to see it surpass carbonated soft drinks at the top of the list soon, as new brands and types of water seem to show up on store shelves monthly. But is there a big difference between all the various bottled waters? Does it matter if you drink purified water or spring water? Or what about alkaline water and artesian water? In the video below we tested 25 different bottled water brands, compared their pH levels, and then looked at cost per ounce to find out which brands offered the "best" water at the best price. Some of you are buying acidic water and paying a premium on it as well.
ltq1gSkQxJo
Water pH Levels and What They Mean
A water's pH level tells us how acidic it is on a scale of zero to 14. The lower the pH level, the higher the acidity; high-pH water is more alkaline. Ordinary tap water lands at about 7, which is considered neutral. Alkaline waters surpass this, sometimes reaching up to 9.5.
So is it bad to drink acidic water? The United States Environmental Protection Agency says that a pH level range of 6.5 to 8.5 is ideal for drinking water. That's not to say that bottled water below 6.5 is dangerous, although one 2015 study suggests that some acidic bottled waters could potentially contribute to dental erosion and tooth decay over time.
Are There Health Benefits to Drinking Alkaline Water?
The jury's still out on this one; there simply isn't a large body of scientific research to back it up. At this point, the reported benefits are largely anecdotal. The idea is that alkaline water's high pH levels protect the body from a whole slew of health ailments — from cancer to osteoporosis to arthritis — by neutralizing the body's natural acidity. But experts say that our blood pH, which lands at about the 7.4 range for healthy folks, likely doesn't need alkaline water to keep itself in check.
"It is possible that alkaline water can make minute changes in blood pH, but the body has a fierce regulation system that is hard to destabilize," physical medicine specialist Nadya Sweden, M.D. told Self in a 2016 interview. "There is no medical proof that supports these claims, though."
But research does suggest that alkaline water might be therapeutic for people with acid reflux. One 2012 study found water with pH levels of 8.8 to be effective in neutralizing stomach acid.
While the scientific community lacks hearty evidence, there are loads of loyal alkaline water drinkers who swear by the benefits. "I can feel the difference in my skin and my entire body," reiki master Sepi Shyne told The Los Angeles Times in 2016.
Whether it's a placebo effect or the real deal has yet to be proven. If you drink alkaline water, however, you should opt for naturally alkaline water and not ionized alkaline water. Naturally alkaline water has a higher concentration of minerals straight from the source, which directly corresponds to its pH level. Ionized alkaline water, which is usually tap water to begin with, does not contain as many minerals from its source; it's added later.
How Popular Bottled Water Brands Measure Up
We personally tested the pH levels of 25 different bottled water brands. Here are some highlights. (Remember, pH levels for alkaline water typically range from 7.1 to 9.5.)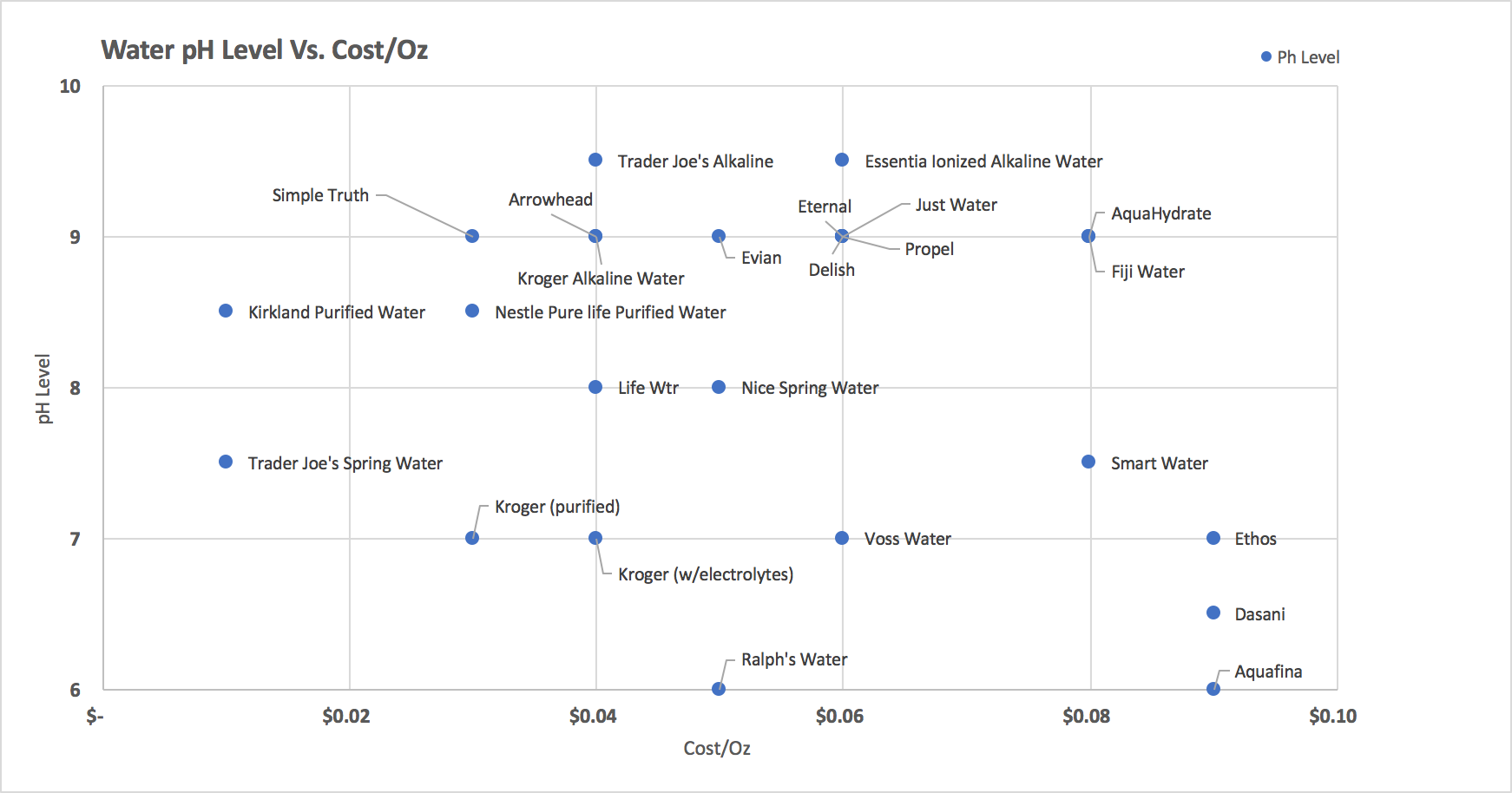 The brands with the highest pH levels (9.5) were Trader Joe's Alkaline Water and Essentia Ionized Alkaline Water.
The brands with the lowest pH levels (6) were Aquafina Purified Water and Ralph's Water.
It's a tie for all-around best value: Kirkland Purified Water (pH level 8.5; $0.01 per ounce) and Trader Joe's Spring Water (pH level 7.5; $0.01 per ounce).
For worst value, we're going with Aquafina Purified Water (tested acidic and cost $0.09 per ounce) and Dasani Purified Water (pH level 6.5; $0.09 per ounce).
Taking into consideration the information in the chart above, why would you buy any of the waters on the bottom right when you can get better and cheaper water from the brands listed near the top left corner?