Advertiser Disclosure: At Slickdeals, we work hard to find the best deals. Some products in our articles are from partners who may provide us with compensation, but this doesn't change our opinions. Our editors strive to ensure that the information in this article is accurate as of the date published, but please keep in mind that offers can change. We encourage you to verify all terms and conditions of any product before you apply.
Reading Time:
5
minutes
Piecing together a home gym isn't just expensive, it's also time-consuming and requires a lot of free space. Most enthusiasts will dedicate an entire room, garage or basement to the hobby before filling it with thousands of dollars worth of gear. One of the cheapest ways to get into the workout game is by picking up dumbbells, which give you instant access to dozens of exercises and are reasonably priced.
But even dumbbells aren't perfect – a full set of weights ranging from five pounds to 50 pounds will quickly eat into your wallet and take over an entire corner of your home. Bowflex 552 Adjustable Dumbbells offer an elegant solution to this problem, giving you access to dozens of different weights in a compact form factor.
They're not perfect, but anyone with limited space who needs a strenuous in-home workout will find a lot to love about this versatile piece of equipment.
Product Snapshot: Bowflex 552 SelectTech Adjustable Dumbbells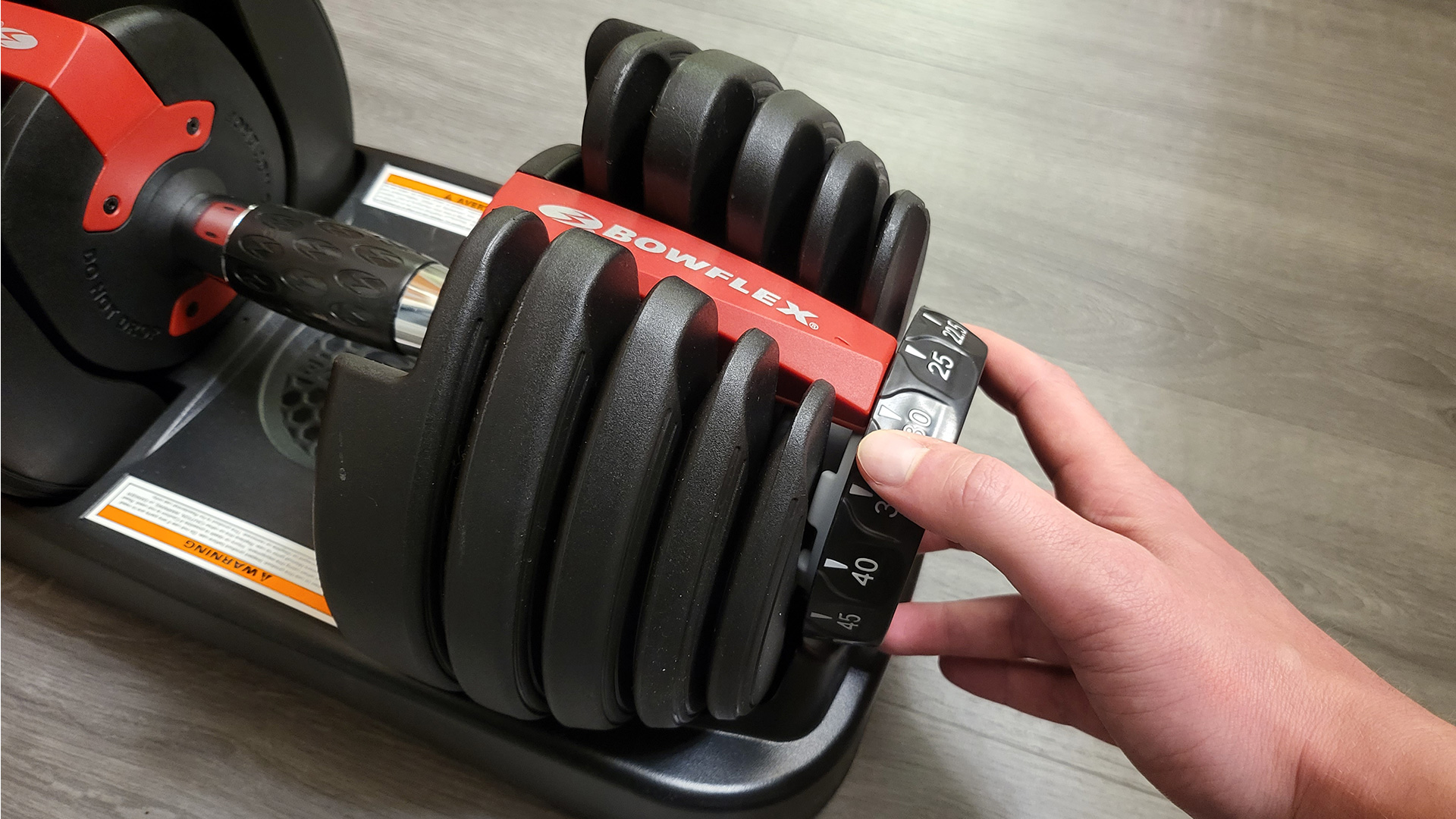 The Bowflex Adjustable Dumbbells Set is essentially 15 dumbbells wrapped into one. By turning an adjustment knob on either end of the dumbbell, you can add or remove plates to accommodate different workouts and weights between five and 52.5 pounds. Changing weights takes less than 10 seconds using the included dumbbell stand, which serves as a great storage solution when they're not actively in use. The stand is also the only way to adjust the Bowflex Dumbbells' weight.
While the Bowflex SelectTech 552 Adjustable Dumbbells are the best fit for folks with limited space, they're still a great option if you have an expansive home gym. Not only will they free up floor space for other equipment (a full set of dumbbells can easily consume several square feet), but they're much more affordable than purchasing 15 different dumbbells.
After using the Bowflex SelectTech 552 Adjustable Dumbbells extensively for all of my workouts, here are a few key observations:
What I like:
Compact form-factor that fits in a home gym of any size
Easy weight adjustments to quickly switch between workouts
Sleek design with black plates and red accents
Comfortable grips for ease of use
Things to keep in mind:
Requires adjustment stand to switch weights
Plates often rattle together during intense workouts
Less durable than expected
Key features/specs:
Adjusts from five to 52.5 pounds
Combines 15 weights into one
Includes a base for storage and quick plate adjustments
The owner's manual suggests numerous exercises for your new dumbbells
The Bowflex SelectTech 552 Adjustable Dumbbells Set can be found on sale now on Amazon for just under $400. If you don't need one for both arms, you can pick up an individual 552 Dumbbell for $200. That might seem expensive, but considering a standard dumbbell set covering the same weight ranges often goes for well over $1,000, there's a lot of value packed into Bowflex's product.
A Closer Look at the Bowflex Adjustable Dumbbells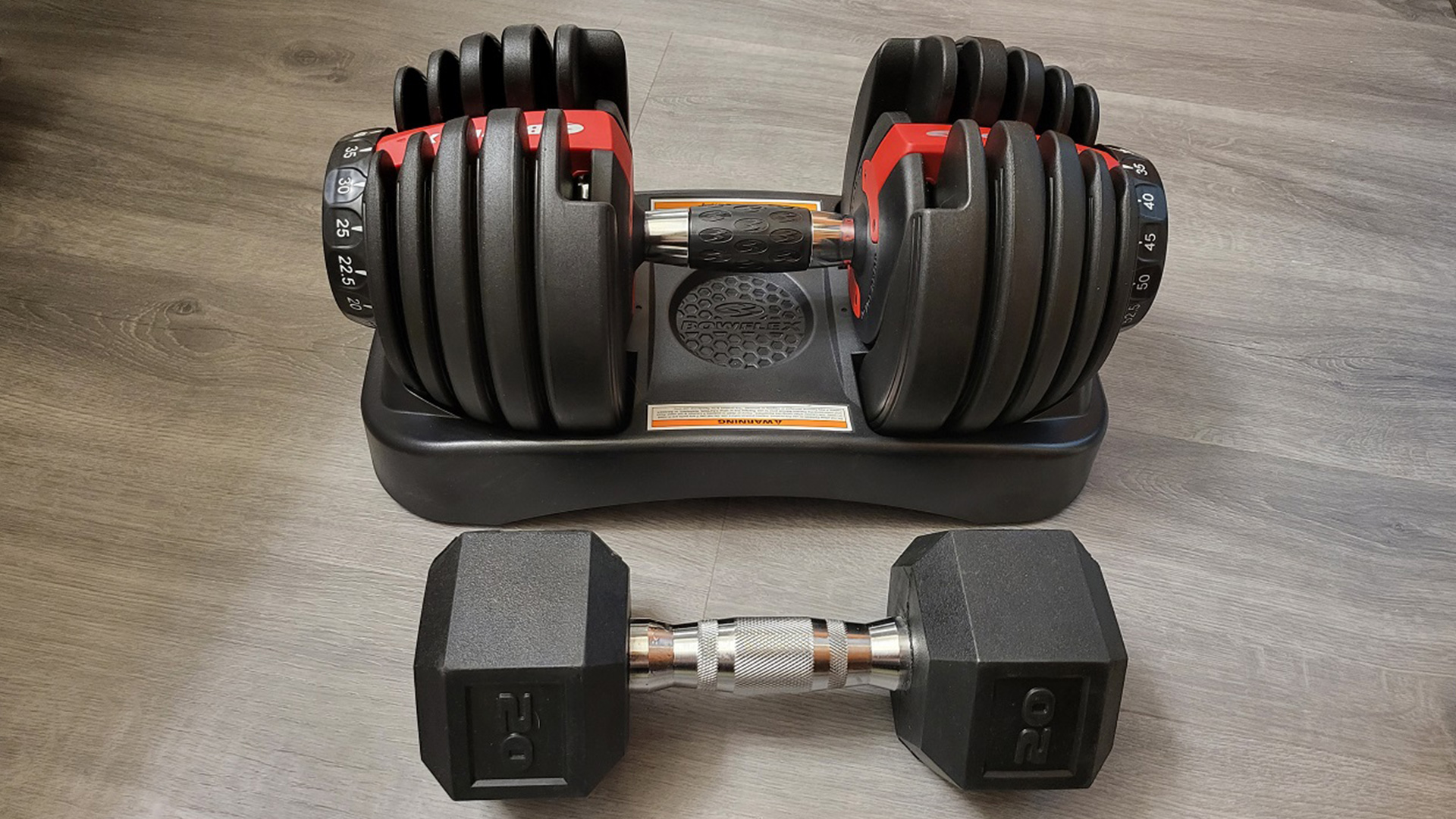 One of the first things I noticed about the Bowflex SelectTech 552 Adjustable Dumbbell was its size. With every plate attached, it's considerably larger than a standard 50-pound dumbbell. That also makes it a bit more awkward during workouts, especially for squats and overhead press – the added length means you'll need to make slightly different motions than usual, although Bowflex points out optimal techniques in the included manual. It's not a dealbreaker by any means, but it's definitely something I didn't anticipate.
As for how to adjust Bowflex Dumbbells and swap out their weight, the SelectTech 552 couldn't have made things easier. With the dumbbell in its base, you simply rotate the dials on both ends to your preferred weight. You can even mismatch the plates on either end, which works well for certain types of bicep curls and other exercises. Once you've made your selection, the plates will automatically snap into place, and you can safely lift the dumbbell. Putting the weight back into the stand is a bit difficult at first (you need to slot the dumbbell through the plates still in the base) but becomes second nature after a few attempts.
Using the Bowflex Adjustable Dumbbells is nearly identical to standard dumbbells – aside from a few exercise tweaks due to their size, there's little they can't handle. However, one thing they can't do is support your body weight (so don't use them as a base for push-ups). You'll also want to be careful when setting them down, as dropping them carelessly will damage the latching mechanism and cause plates to disengage. The Bowflex 552 Adjustable Dumbbells Set will provide you with explosive and violent workouts, but you'll need to be gentle and cautious when using them.
Other Adjustable Dumbbells to Consider
Bowflex SelectTech 552 Adjustable Dumbbells get a lot of things right, but they're far from the only adjustable dumbbells on the market. Although I found them to be a great addition to my daily workout routine, there are plenty of cheaper options at your disposal. These alternatives are often clunkier, more prone to issues with their latches or not as refined as the SelectTech 552, but if you're on a tight budget, here are a few that are worth a second look.
Final Thoughts – Are the Bowflex Adjustable Dumbbells Worth It?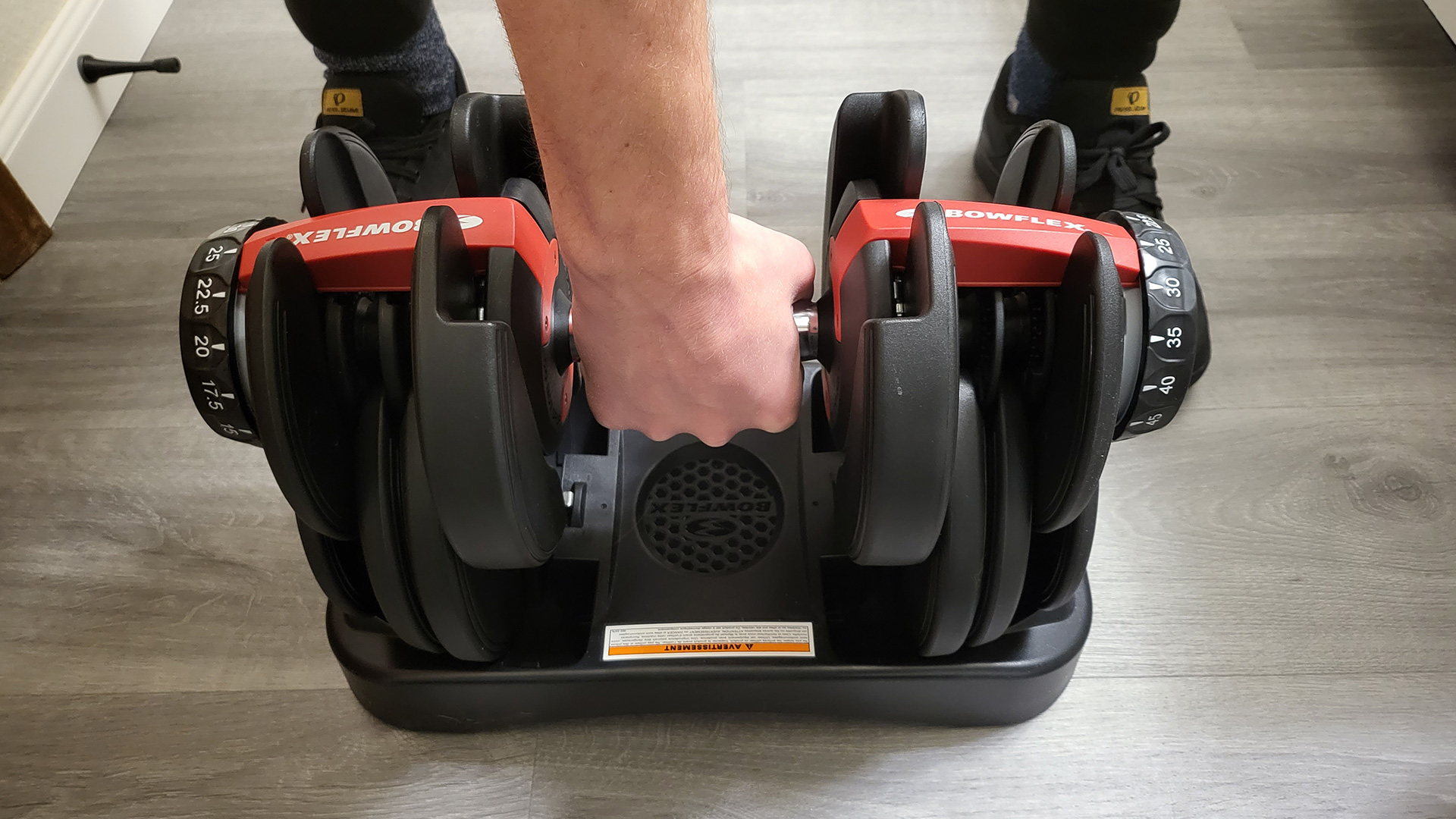 If you're looking to build a home gym but lack the extra space, the Bowflex Adjustable Dumbbell Set, found on Amazon, is easy to recommend. You're essentially getting fifteen dumbbells in one, giving you an affordable and easy way to work out every muscle group imaginable.
They're also surprisingly easy to use, and you can go from curling 30 pounds to lunging with 50 pounds in a matter of seconds. Maintenance is also minimal and simply involves inspecting each plate to ensure none of the latches have been damaged.
Whether you're an avid gym rat looking to cut out the daily commute to your gym or a fitness newcomer who needs a single piece of equipment that reaches all muscle groups, it's hard to beat the Bowflex SelectTech 552.
More great deals from Slickdeals: