Regal theaters announced a new subscription plan that lets moviegoers watch as many films as they want for one relatively low monthly fee — but it comes with a few catches.
We're breaking down the details and comparing the Regal Unlimited subscription pass with other plans to help you decide if it's the best choice for you. But if you're looking for something from the comfort of home, you can also check out this popular movie deal from our Frontpage:
Search URL: https://slickdeals.net/newsearch.php?firstonly=1&pp=20&sort=newest&rating=frontpage&filter%5B%5D=7860&forumid%5B%5D=9&hideexpired=1&r=1
What is the Regal Unlimited Subscription Pass?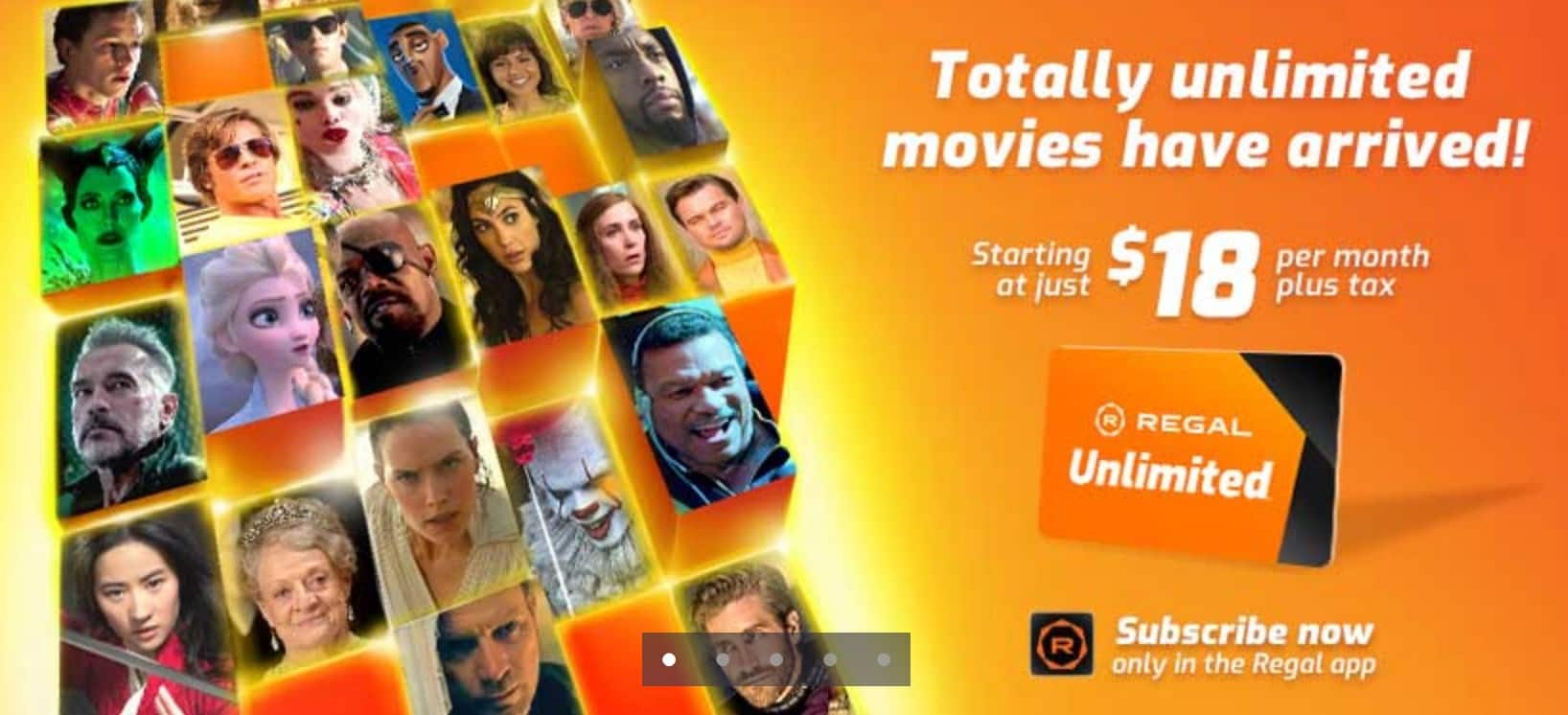 With plans starting at $18 per month, the Regal Unlimited movie subscription pass lets you "watch as many movies as you want, as many times as you want, whenever you want, wherever you want." Plus, you can grab advance tickets as soon as they go on sale while scoring 10% off at the concession stand.
Here's a quick overview of the program's perks:
10% off all food and non-alcoholic drink purchases
No blackout dates or limits
Free large popcorn and soft drink on your birthday
Earn Regal Crown Club credits with every dollar spent using your Regal Unlimited subscription
See movies first with Regal Unlimited screenings
How Much Does It Cost?

Regal lets you choose from three different subscription plans based on your budget and theater preferences:
The Unlimited Plan ($18/month + tax or an annual fee of $216) includes 200+ select Regal theaters nationwide
The Unlimited Plus Plan ($21/month + tax or an annual fee of $252) includes 400+ Regal theaters nationwide
The Unlimited All-Access Plan ($23.50/month + tax or an annual fee of $282) includes 550+ Regal theaters nationwide
You can check which locations are included in each subscription plan by clicking on this theater list.
But here's the catch: Each subscription has an initial, non-cancelable term of one year. In other words, you're locked in for a full year without the ability to cancel your subscription or change your billing plan (unless you want to upgrade to a more expensive option, of course).
However, unlike MoviePass, the Regal Unlimited subscription probably won't fail within that timeframe. Since the service is offered by the theater chain itself, it won't collapse under its own weight.
Additionally, you may be subject to additional charges. For instance, there's a 50-cent convenience fee if you reserve your ticket via Regal's app.
You'll also have to pay a surcharge for premium format showtimes (e.g., ScreenX, 4DX, IMAX, RPX, 3D and VIP), "restricted theaters" not included in your subscription plan and certain movie event showtimes (like marathons, double features and fan events).
How Does the Program Work?
The Regal Unlimited subscription program is a membership tier of Regal's current customer loyalty program, the Regal Crown Club.
Both loyalty programs require the Regal mobile app (available on iOS and Android), which you have to download in order to sign up for an Unlimited subscription. You can then use your smartphone to pull up your virtual pass whenever you go to the movies.
You also need to be 16 or older to purchase a membership (minors need permission from a parent or legal guardian to enroll).
How To Join Regal Unlimited
Interested in signing up? Here's how to enroll:
Download the free Regal App.
Click on any Regal Unlimited banner and follow the steps.
Pay in-full or month-to-month using a debit or credit card.
Once you've enrolled, you can obtain your Unlimited tickets on the app, at the box office or through Regal's theater kiosks.
How Does Regal Unlimited Compare to the Regal Crown Club?

The Regal Unlimited Subscription Pass is a paid membership program that lets you watch as many movies as you like.
Regal's Crown Club, on the other hand, is a free rewards program that lets you earn credits for buying tickets and concessions. You can then redeem those credits for rewards (like complimentary tickets, free snacks, movie swag, digital downloads and more at MyRegal.com).
Already a Crown Club member? Just log into your Crown Club account via the Regal app to complete your Unlimited enrollment. If you don't have an active Crown Club account, you'll automatically receive one when you purchase a subscription plan.
One great thing about buying an Unlimited plan is that you earn Crown Club credits for any purchases you make in connection with your subscription. According to Regal's website, you get 100 Crown Club credits for every $1 spent on monthly or annual subscription fees as well as online convenience fees.
Once your initial one-year commitment is up, you can cancel your plan while keeping your Crown Club account and any credits you may have earned.
How Does Regal Unlimited Compare to AMC Stubs A-List?

Movie lovers will definitely want to compare Regal Unlimited with the AMC Stubs A-List program. AMC Stubs A-Listers can watch up to three films a week for $19.95 per month plus tax.
Unlike the Regal Unlimited plan, Stubs A-List members can see movies in all formats (including IMAX and Dolby Cinema) at no additional cost. Plus, you can use your membership at every AMC, AMC Dine-In and AMC Classic theater across the country for the same flat price.
On the other hand, Regal Unlimited allows you to see unlimited movies, as opposed to a finite three per week with Stubs A-List. That said, going to the movies three times a week might be plenty for some customers.
Another key difference? The AMC Stubs A-List membership includes a minimum contract term of three months — less commitment upfront than Regal's one-year contract. As Slickdealer charles801 points out, it costs "$59.85 plus tax" to try AMC Stubs A-List vs. $216 with Regal Unlimited.
And both subscriptions include discounts on concessions while offering rewards points for membership fees.
Ultimately, it's probably smarter to stick with the theater chain that's more easily accessible to you geographically. One might be less expensive than the other, but remember that gas for trips to a farther theater adds up.
RELATED: AMC Stubs A-List Lets You Watch Three Movies per Week for $20 a Month
Regal Unlimited Subscription Review: Is it Worth It?
The Slickdeals community has plenty to say about Regal's new membership plan. User dealgirl1 thinks "it's a really good deal for people who watch a lot of movies" but admits that "there are a lot of people upset with some of the fine print."
As she explains, several forum users think "that it's not as good a deal as A-List" because of "the premium upcharges and convenience fees, not to mention the 12-month commitment."
Slickdealer Gordino adds that Regal's fine print "also has a few nice terms in there indicating that they can suspend your plan for a variety of reasons for periods of time, and you will still be subject to the monthly fees during the suspension without being able to use your plan." As for the overall value, there are some mixed opinions as well.
SplendidPear3356 feels that the 50-cent convenience fee for booking on the app is a prime example of "nickel and dimeing." However, dealgirl1 points out that "the 50-cent fee is a discount from the current $1.50 fee, but compared to AMC, it's disappointing. And you can't avoid the fee for advanced purchases, because box office and kiosk purchases are limited to same day."
User tqlla3k thinks "A-List sounds much better unless you are watching more than 3 movies per week. It's $20, you can go to any AMC in any theater and it's only a 3-month commitment."
Still, Slickdealer iamandrewz is "surprised to see people not jumping on this. As far as I can see for myself, it would be $21+tax/mo for unlimited movies + $0.50 to reserve my seat. I almost spend that much just going to watch one movie."
So if you're in an area where tickets are on the expensive side and there's a Regal Cinema near you, this deal is definitely one worth considering.
Images courtesy of Regal and Wikimedia Commons.