Advertiser Disclosure: At Slickdeals, we work hard to find the best deals. Some products in our articles are from partners who may provide us with compensation, but this doesn't change our opinions. Our editors strive to ensure that the information in this article is accurate as of the date published, but please keep in mind that offers can change. We encourage you to verify all terms and conditions of any product before you apply.
Reading Time:
5
minutes
After the failure of MoviePass, major theater chains began scrambling to fill the void in the ticket subscription market. And while none have been able to quite match the original national reach and selection of MoviePass, there are still a number of cost-effective plans worth considering.
Three large theaters — Cinemark, Regal and AMC — all provide markedly different plans for customers, and determining the best movie theater ticket discounts for you and your family requires a bit of research. Some plans come with more viewing options per week, while others are more cost-effective or flexible. Even your location could mean a more — or less — expensive plan.
With the average cost of a movie ticket running more than $9 these days, Slickdeals is here to help you find the best bargain. We took a look at each of the major movie theater pass programs to compare the services and see where they shine.
Cinemark Movie Club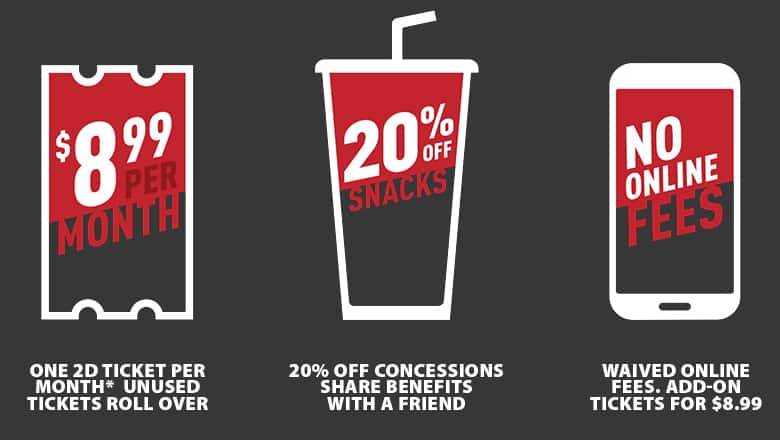 Cinemark's Movie Club is easily the cheapest ticket service available for customers. With Movie Club, members receive one ticket to a 2D film each month. Should you fail to use your ticket one month, it rolls over. Your zip code determines the price you'll pay for the service. For my zip code in LA, it's $9.99 per month. When I checked my hometown's zip code in Ohio, it was only $8.99.
Movie Club makes for a great purchase at the beginning of the year, since "dump months" like January and February can be avoided and you can save your screening tickets for the coming summer blockbusters.
In addition to the complimentary monthly ticket, Movie Club also offers 20% off concessions, discounted tickets for your friends and the ability to reserve seats online without paying fees. Additionally, its month-to-month plan allows you to cancel at any time, while others require a multi-month or annual subscription.
Is the Cinemark Move Club Service Right for You?
If you visit the movies sparingly and still want to save a bit of money, Cinemark's service is likely your best option. Consider how many movies you see a year, and if it totals to around 10-12, Cinemark is a solid option. Just make sure you live near a Cinemark location, as they're less widespread than Regal or AMC venues.
Regal Unlimited Subscription

If you like to see every movie that comes out, the Regal Unlimited Subscription may be a good option. Starting at $18 per month, members may see as many films as they like at participating Regal venues. Given that Regal boasts nearly 200 more locations than Cinemark, this service can be great for the diehard cinema goer.
In addition to the movie selection, Regal Unlimited also offers you:
10% off all food and non-alcoholic drink purchases
No blackout dates or limits
Free large popcorn and soft drink on your birthday
Regal Crown Club credits earned with every dollar spent using your Regal Unlimited subscription
The ability to see movies first with Regal Unlimited screenings
For events such as ScreenX, 4DX, IMAX, RPX, 3D and/or VIP, surcharges will likely apply. Additionally, certain events, such as foreign language films, may also include a charge of a few extra dollars. Reserving seats incurs a 50 cent charge as well.
You'll also want to pay attention to the three tiers of service, as certain theaters may be excluded from certain plans:
The Unlimited Plan ($18/month + tax or an annual fee of $216) includes 200+ select Regal theaters nationwide
The Unlimited Plus Plan ($21/month + tax or an annual fee of $252) includes 400+ Regal theaters nationwide
The Unlimited All-Access Plan ($23.50/month + tax or an annual fee of $282) includes all 550+ Regal theaters nationwide
You can find the list of excluded theaters for each plan here.
Is the Regal Unlimited Subscription right for you?
If you see more than a movie a month, Regal already stands out as a better deal than Cinemark. Even compared to AMC, which we'll get to next, you technically get way more movie-going access month-to-month since there are no limitations on the number of movies you can see.
The downside here is that the Regal subscription comes with a yearlong commitment. That means you're shelling out at least a $216 commitment, which can definitely add up if you have a large family.
Many Slickdeals users also made it a point to read the fine print, as those charges and restrictions can get in the way of your movie-viewing experience. For example, Slickdealer Gordino pointed out that the plan could be "suspended" at any time, but you will still be charged your monthly fee.
AMC Stubs A-List

Starting at $19.95 per month, AMC Stubs A-List subscription lets you see up to three movies a week, with benefits resetting every Friday. From that perspective, you can see a movie every Friday, Saturday and Sunday, which are the three days people typically go to the cinema.
Unlike the prior two subscriptions, A-List lets you see IMAX, 3D films and other special viewings for no extra charge (plus, no blackout dates). This subscription requires you to sign up for at least three months, which may be worth it for the fall months when holiday, horror and Oscar films start making their rounds.
In addition to the screening options, A-List also comes with free reservation options (up to three at a time) and 10% back on food and drink purchases. Plus, it can be used at AMC, AMC DINE-IN or AMC CLASSIC locations (depending on your subscription).
There are three different levels to this subscription, so read the fine print to ensure your plan covers your specific state:
$19.95 for all states excluding California, Connecticut, Colorado, Delaware, District of Columbia, Florida, Georgia, Illinois, Maryland, Massachusetts, Minnesota, New Jersey, New York, Oregon, Pennsylvania, Virginia and Washington ("34 states")
$21.95 for all states excluding California, Connecticut, Massachusetts, New Jersey and New York ("45 states")
$23.95 for locations in all states
Is an AMC Stubs A-List Subscription right for you?
Compared to Cinemark and Regal, AMC offers more of a balance between selection, cost and commitment. Though it offers fewer screenings per week when compared to Regal, A-List still lets you see three films a week, which is more than most people typically see.
It's also less of a commitment than Regal, though the required three-month subscription is stricter and more expensive than Cinemark's.
The Bottom Line
It's clear that each of these ticket subscription services are better suited for specific types of viewers. For the casual movie-goer looking to save a little extra on tickets each month, Cinemark is the best option with the most flexibility to cancel.
If you consider yourself an avid moviegoer, you'll need to decide between AMC and Regal.
AMC offers much less of a commitment, and three movies a week seems like plenty for most folks. Additionally, A-List lets you see special screenings like IMAX for no extra cost, while Regal will charge you extra. That said, because of the state restrictions, you may end up paying quite a bit more for the AMC plan over Regal's service.
And remember, before you buy, make sure to take travel distance into account. It's probably not worth paying $1 less a month for a theater that's an hour away.
---
Looking for more movie theater ticket discounts? Check out our Ticket and Admission Deals page for all the latest offers on movie tickets. Alternatively, set a Deal Alert to be notified immediately when a new deal is posted for your favorite theater.
And if you're looking for something more immediate, check out this popular movie deal from our Frontpage:
Search URL: https://slickdeals.net/newsearch.php?firstonly=1&pp=20&sort=newest&rating=frontpage&filter%5B%5D=7860&forumid%5B%5D=9&hideexpired=1&r=1
Images courtesy of Cinemark, AMC and Regal.